Thank you so much for the lovely comments yesterday on my bathroom pictures!! I was actually kind of nervous hitting 'publish' on that one :)
I wanted to tell you guys a little about our vanity. I'm not sure if you remember, but we went back and forth for ages regarding the
dark vs. white question
, and the majority of the people I asked said WHITE.
We were thinking about going with this vanity from Restoration Hardware: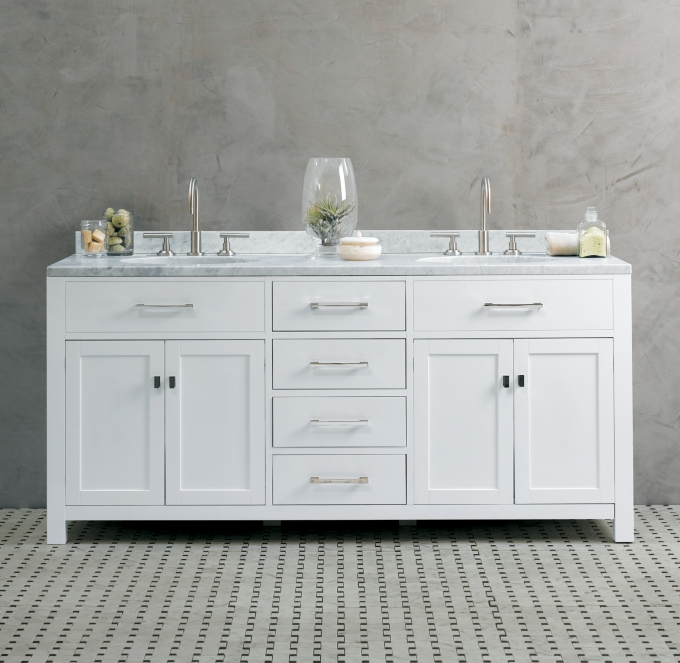 but after receiving our plan from Carol Reed (more on that later), we knew that dark was the way to go. I had sent Carol a number of inspiration pics that had both light and dark and she right away figured that I was drawn to the 'drama' of the dark vanity in a light bathroom.
Shortly after we received the design plan from Carol, Shannon over at
What's Up Whimsy
'liked' a Facebook page called
Lumsden Custom Cabinetry
. I checked the page out and immediately gave Jesse a call. I didn't have a 'guy' who could do this kind of thing, so a referral from a blogger friend was a pretty great option!
Jesse was fantastic to work with. He builds custom vanities, bookcases, desks, kitchens, etc etc etc. He works out of his house up in Markham and clearly takes a lot of pride in his work.
After fussing around with the design (for a long time), J and I finally settled on this as our inspiration:
Sarah Richardson Design
Pretty awesome, right? I loved the frame around the outside and the flat front cupboards and drawers that show off the veneer. We thought the wood grain was a little bold for us, so we settled on a flat cut walnut that Jesse handpicked for us (he sent a few samples but this was the winner):
Once we picked the veneer, Jesse got to work! I had kind of forgotten about it until I got a really awesome email from him saying it was done and ready for stain :-)
I freaked out! Going custom can be nerve wracking - this was out of my usual comfort zone and when I saw this picture, I KNEW we'd made the right choice (with the vanity and with Jesse).
We went up the next weekend to pick the stain colour:
Jesse had a bunch of options for us - some were even stained on leftover pieces of our specific veneer so we'd get a really great preview of what it would look like.
After much debate (about 6 minutes), we went with the stain you see on the biggest piece of wood:
It was J's favourite - I didn't love all the red in it, but I did agree that it showed off the grain and (as I've learned) sometimes you have to let your spouse win :-) PLUS he tends to be really, really good at that stuff.
The next time I saw the vanity was when Jesse and his dad delivered and installed it. That was a task. Jesse actually built it in two pieces because he figured we may have narrow hallways (haha it is like he has read my blog), but it wasn't the narrow staircase that was the issue.
It was the fact that NOTHING is square in our house. The spot that the vanity was going to fit in was not exactly as we had described it. Sure, it was 70" across in one spot, but near the back it was 69" and in other spots 68". This is why it is AWESOME that we went with a custom guy - Jesse just pulled out his saw and other fancy tools and made it fit. It was really cool (and probably took way longer than he expected).
The knobs are from
Restoration Hardware
- we wanted something simple and reflective. I tried Lee Valley (bloggers favourite hardware store) but they actually didn't have much in polished chrome/nickel, so RH it was.
I couldn't be happier with the end result - it really is a show piece and grounds the whole room. While I love all the white vanities out there, I really think it would have been too much white in our bathroom.
So if you are looking to have something made, I absolutely recommend Jesse Lumsden at Lumsden Custom Cabinetry.
Call 905-201-7000 or email Jesse (and his awesome wife, Hayley) at
info (at) lumsdencustomcabinetry.com